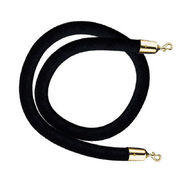 6' Velour Rope (Black)
Velour ropes are 1.5" in diameter and are wrapped around a foam core, allowing for perfect draping. Available in 6' length in black or red velour. Hook ends are polished chrome or satin brass and feature a snap hook for a more secure connection.
Features
Rope Length: 6'
Rope Diameter: 1.5"
Hooks have clasp ends.
Stanchions set 4' apart would require 6' ropes to provide "draping" between posts.